BREAST CANCER FOUNDATION OF THE OZARKS
A former BCFO board member used to say "Individually, we are bright. Collectively, we are brilliant," and today, those words still ring true. Valuing teamwork and community partnerships, BCFO hopes that anyone who encounters our organization – whether it be a patient, volunteer, or donor – has an experience that changes their world for the better.
Like many other nonprofits, our organization wouldn't be what it is today without BCFO's board of directors and staff. With a diverse array of backgrounds and experience, BCFO team members are uniquely prepared to address the situational poverty stemming from a breast cancer diagnosis. Whether you are a breast cancer patient, a donor, or a volunteer, we want to hear how we can best serve you. BCFO team members strive to ensure our patients get the services they truly need, donors' contributions are used in the most effective manner, and our volunteers are directly involved in programs and community outreach efforts.
Mary Beth O'Reilly founded BCFO in 1999.  She brought a group of friends together with a shared mission – providing real and practical help to local families facing breast cancer – after losing her friend Kristen O'Brien Hardy. To read more about Kristen O'Brien Hardy's story, click here.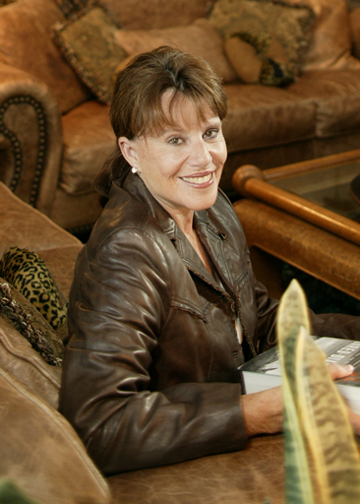 Mary Beth is a registered nurse with an extensive healthcare background.  Prior to founding BCFO, she worked at St. John's Health System, Community Hospices of America, and Oxford Health Care. One achievement in her nursing career is the development of the "Nurse On Call" program to provide immediate medical contact for patients at high risk for admission or readmission to the hospital.  First implemented at St. John's Health System, this program is still in use at Mercy today.
Mary Beth is married to Charlie O'Reilly, and the couple has three sons – Pat, Tim and Ryan.  She and Charlie raised their kids in the early days of O'Reilly Auto Parts, long before the company went public.  Juggling auto parts runs between Joplin and Springfield in an old station wagon with a hole in the floorboard (through which her children unloaded various items onto I-44), Mary Beth balanced a career, children and support for Charlie's role with O'Reilly Auto Parts. 
Mary Beth is a long-standing community volunteer, serving on various local and state boards including past service as a Missouri Foundation for Health board member. In the early days, she and Charlie were Jaycees, donating their time, as that was what they were able to give back to the community at that point. Now, Charlie and Mary Beth O'Reilly are noted philanthropists, choosing to use their resources to make significant impact on the southwest Missouri community through a number of charitable organizations including BCFO.
As a breast cancer survivor herself, Mary Beth understands the difficulties faced by families who encounter cancer.  Breast Cancer Foundation of the Ozarks provides vital services to those families to ease their journey through breast cancer.
Jami Skrade, M.D., President

Dr. Skrade is Board Certified in Anatomic and Clinical Pathology. She went to Medical School at University of Missouri – Kansas City and did her Pathology Residency at Truman Medical Center, St. Luke's Hospital and Children's Mercy Hospital in Kansas City. She did a Surgical Pathology Fellowship at Truman Medical Center and obtained an MBA at the University of Missouri Bloch School of Business and Public Administration. Dr. Skrade is the medical director of Chemistry and the Ferrell-Duncan Clinic Laboratory. She has a special interest in legislative and advocacy issues in healthcare.
Dr. Skrade has four children which keep her busy attending sporting events. If there are no games to attend, she enjoys spending time at the lake.
Debi Murray Bennett, Secretary

Debi is a Realtor with Murney Associates, The Office of Patrick Murney. She obtained her Missouri Salesperson License in 1995 and continued her focus in the Buyer Specialist area. Debi has multiple recognition awards of service from the Ozark Empire Fair Board of Directors;Vendor of the Year, Home Builders Association of Greater Springfield. She has also has served on the Ozark Empire Fair Board of Directors and Home Builders Association of Greater Springfield Charitable Foundation Board. She is a member of Second Baptist church where she works with special needs children through MOPS. She is the proud mother of two children and enjoys biking and walking.
Brian McCracken, Treasurer
Brian is a portfolio manager at Pinnacle Family Advisors. Brian's primary focus is on managing a total return investment portfolio for his clients. Prior to joining Pinnacle Family Advisors, Brian worked for Morgan Stanley and Merrill Lynch as a Vice President, Financial Advisor. Prior to entering the financial service industry, Brian was a CPA with Ernst & Young in Kansas City. Brian graduated from Drury University with a double major in accounting and business administration. Brian is married to Kelly and has two daughters and one son. In his spare time Brian enjoys just about anything outdoors.
Brian has been involved with BCFO since 2003. Brian currently serves on the investment committee.
Dr. Biggers is a surgeon with Crighton, Olive, and Dunn Surgical Group. He received his medical degree at Universtiy of Missouri Medical School and completed his residency at University of Missouri-Kansas City. He went on to continue specialized training at Baylor University Medical Center in breast surgical oncology. In addition, Dr. Biggers has participated in medical research projects and written various published studies.
Dr. V. Roger Holden is an oncologist with Oncology Hematology Associates.  Dr. Holden earned a Bachelor of Science in Biology at Southwest Missouri State University in Springfield. He attended Louisiana State University in Shreveport, earning a PhD in Microbiology and Immunology before attending medical school. He completed an internship and residency at the University of Alabama, Birmingham, and a hematology and oncology fellowship at the University of Texas Southwestern Medical Center at Dallas – Parkland.
Board certified in hematology and oncology, Dr. Holden practices in the Springfield and Monett areas. He and his wife, Cynthia, have 2 children.
Ryan O'Reilly co-founded private equity firm Westward Alliance LLC. Westward Alliance LLC, a private equity venture launched in 2014 and has invested in 13 businesses from Springfield to Phoenix in industries as diverse as dining, construction and automobile financing.
Ryan, son of Mary Beth and Charlie O'Reilly, founders of the Breast Cancer Foundation of the Ozarks, is the author of the travel novel Snapshot, and a free-lance contributor to various newspapers and periodicals throughout the country. He studied English Literature at Westminster College in Fulton, Missouri and is a member of the National Writers Association and the Writers League of Texas.
Carlye Wannenmacher is the Vice President, Director of Marketing for Guaranty Bank (NASDAQ:GFED). She has over 25 years of marketing, communications, public relations, and product solutions experience with dynamic and growing companies.
Carlye has a B.J. from the University of Missouri-Columbia and a Certified Financial Marketing Professional designation from the Institute of Certified Bankers. She serves as a Commissioner for the Mayor's Commission for Human Rights and Community Relations; a Board Member for the Association for Women in Communications; and a Committee Member for the Leadership Springfield Signature Class program.
Carlye is married to Phil and has two sons. Her family and friends have been greatly impacted by breast cancer and she is passionate about the mission of BCFO.
Jessica Snider, D.O. is a medical oncologist with Mercy Oncology Hematology in Springfield.  She attended medical school at Kansas City University of Medicine and Biosciences.  Dr. Snider's fellowship and residency were completed in Memphis at University of Tennessee. She boarded in internal medicine, hematology and medical oncology. 
Dr. Snider is passionate about improving cancer care and providing state of the art cancer care locally.  She is married to Greg.  The couple has three children, Kane, Owen, and Kendall.  She enjoys spending time with her family.
Gary Schafer is a partner at FORVIS. Gary has 15 years of experience providing audit and advisory services to manufacturers, retailers and service businesses. He coordinates the commercial audit practice for FORVIS Springfield, Joplin and Branson offices. He is a member of the American Institute of Certified Public Accountants, Missouri Society of Certified Public Accountants and Institute of Certified Management Accountants.
Gary serves on the executive committee of Southern Missouri Region of American Red Cross and recently served on the Springfield Area Chamber of Commerce as chair of The Network for Springfield young professionals. Gary is a 1996 graduate of the Honors College at Missouri State University, Springfield, with a B.S. degree in accounting and a minor in computer information systems.
John is Vice President of The Insurance Group in Springfield and serves as an advisor and consultant to many corporate clients throughout Southwest Missouri.  His portfolio includes property & casualty insurance and employee benefits.  He is also  involved in the firm's aviation unit.  Prior to joining The Insurance Group in 2009, John served four years as Deputy Chief of Staff -Administration for Governor Matt Blunt.  Previously he served as an assistant to Blunt when he was Missouri's Secretary of State.  John is also involved with a family manufacturing business in Springfield, L&W Industries.  John is a graduate of the University of Missouri with a degree in Business Management.  Originally from Lebanon, he and his wife, Jenilee, live in Springfield with their daughter, Harper and son, Hudson.
Dr. Smid is certified by the American Board of Radiology. She went to Medical School at University of Missouri Kansas City School of Medicine. She completed her Residency and was a Fellow and Lecturer  at the University of Michigan School of Medicine's Department of Radiology.
She Specializes in Vascular & Interventional Radiology at the Physicians for Breast Health. Dr. Smid's professional societies include: Radiological Society of North America, American College of Radiology, American Medical Association, American Roentgen Ray Society, Society of Breast Imaging, Society of Cardiovascular & Interventional Radiology and American Association of Women Radiologists.
Brian K. Asberry has been a partner at the Neale & Newman Firm since  1996. Mr. Asberry's practice is divided between commercial litigation and general corporate work. He obtained his undergraduate degree from The School of the Ozarks and his law degree from the University of Missouri. Brian has served as an adjunct professor at many institutions such as Webster University and Drury University. 
Brian has been on the board of many organizations including Big Brother/ Big Sister of the Ozarks, the Make-A-Wish Foundation of Missouri, and served as chairman of the board for the Ronald McDonald Children's Charities of the Ozarks. 
Dr. Lackey is a Radiologist with Breast Imaging of the Ozarks, The Breast Center. She graduated with honors from Northeast Ohio Medical University in 2010. She then enrolled in a sought-after Diagnostic Radiology Residency program at the University of Arkansas for Medical Sciences. After residency graduation in 2015, Amanda pursued her passion for Breast Imaging by completing an additional year of specialized training at The Ohio State University. In 2016 she worked at a high-volume Springfield center practicing 100% breast imaging. Now, Amanda and her husband Logan are combining their specialized breast imaging expertise with their own brand of exceptional patient care to better serve Springfield.
BCFO hosts several fundraising events every year. Check out our upcoming events here!
With your help and support, BCFO can continue our mission of helping families impacted by breast cancer. To make a charitable donation, click HERE.
BREAST CANCER FOUNDATION OF THE OZARKS
620 W. Republic Rd. Ste 107
Springfield, MO 65807
PHONE: 417.862.3838
FAX: 417.862.3830


Stay informed about our latest news & events, or join our volunteer list. Don't forget to connect with us on social media as well.
Breast Cancer Foundation of the Ozarks is a local 501(c) 3 not-for-profit organization. BCFO reaches out to friends and neighbors who have been affected by breast cancer. BCFO offers personal support and comfort in real and practical ways, providing support networks, mentoring programs, a full range of resources regarding breast cancer awareness, diagnosis and treatment, where to find related community services, and more.