BREAST CANCER FOUNDATION OF THE OZARKS
A former BCFO board member used to say "Individually, we are bright. Collectively, we are brilliant," and today, those words still ring true. Valuing teamwork and community partnerships, BCFO hopes that anyone who encounters our organization – whether it be a patient, volunteer, or donor – has an experience that changes their world for the better.
Like many other nonprofits, our organization wouldn't be what it is today without BCFO's board of directors and staff. With a diverse array of backgrounds and experience, BCFO team members are uniquely prepared to address the situational poverty stemming from a breast cancer diagnosis. Whether you are a breast cancer patient, a donor, or a volunteer, we want to hear how we can best serve you. BCFO team members strive to ensure our patients get the services they truly need, donors' contributions are used in the most effective manner, and our volunteers are directly involved in programs and community outreach efforts.
Brand and Experience Manager, 2023-present
Emily is new to Springfield, but native to the Ozarks. She was born and raised in Bentonville, Arkansas and moved to Missouri for college. Emily obtained her Bachelor of Arts degree in Graphic Design from College of the Ozarks in 2023. Throughout college she worked at 91.7 KCOZ FM as radio host, graphic designer, and student manager. 
Moving to Springfield post-graduation, a family friend suggested she look into nonprofit work. A desire to do real, meaningful work brought her to BCFO. She loves interacting with BCFO's clients and survivors and hopes to bring more awareness to BCFO's services through social media and other marketing tactics.
Outside of work, you can find Emily and her husband walking in parks, sitting in coffee shops, and working on various art projects. 
Patient Advocate, 2021-present
Ashley is a native to the Ozarks, born and raised in Springfield. She graduated with a Bachelor of Social Work in 2023 from Missouri State University. She worked in the healthcare setting for 13 years in many capacities before coming to our organization.
Ashley was personally touched by her own battle with breast cancer in 2015. She found out firsthand what patients go through, at which time BCFO was able to help her family. She then began volunteering for the organization in 2016 to give back for the assistance she had received, and to help raise money for other families who are going through the battle.
Ashley loves to spend time with her daughters and can be found on the sidelines of sporting events most days of the week. In her spare time, she loves to read, craft, and spend time outdoors.
Ashley believes that working for BCFO is a blessing and allows her to support others through their breast cancer journey. She loves being able to advocate for those in her community for better opportunities in the future and ensuring they have access to resources to help relieve the stress that cancer brings to our lives.
Joe Daues joined BCFO in July 2019 with a connection to breast cancer through his late Aunt Carol. Three weeks after his start date a close member of his family was also diagnosed with breast cancer, was treated and is now cancer free!
Joe enjoyed a career in broadcast news on the radio in Rolla, Lebanon and Springfield before moving to television in Springfield and in Tulsa. He also has experience working in the Missouri capitol under the State Treasurer and in two local start-ups before moving to the non-profit world. He's a St. Charles, Missouri native and together with his wife Christine, spend most of their time outside work with their two children, Joey and Jude.
Joe considers his opportunity at BCFO a calling to help people at the time of their greatest need and an opportunity to grow the Breast Cancer Foundation of the Ozarks in order to help families for generations to come.
Staff Accountant, 2019-present
Debbie Donnell is currently serving BCFO in the capacity of the Staff Accountant. This position handles all of the daily accounting needs as well as publishing the monthly and year-end financial reports for the Foundation and its five Vehicle License offices.
Debbie moved to the Ozarks in August of 1994. Her formal education and Accounting Management experience was acquired in her native state of California. Subsequently, she has held the position of Staff Accountant for two other non-profit organizations and enjoys the rewards of working while helping others.
Bringing over 30 years in Accounting and HR experience, Debbie is excited about implementing new ideas and procedures to further aid in the goals of the Breast Cancer Foundation of the Ozarks.
Outreach Director Breast Cancer Foundation of the Ozarks, 2023-present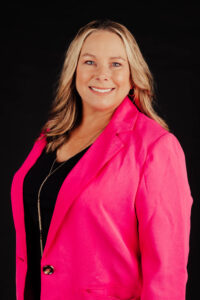 Regina Hammons formally joined staff in 2023–but is no stranger to the BCFO family. She has worked with the BCFO for 8 years, including creating the Swinging for Pink event and being part of the Pink Ribbon Gala committee. She is honored to join the BCFO family as the Outreach Director in Joplin.
Regina has lived in the Joplin area for over 30 years. She attended Missouri Southern State University where she obtained her Bachelor of Science Degree in Finance. She also attended Pittsburg State University and obtained a Bachelor of Science Degree in Marketing.
Before joining the BCFO family, she was in sales, marketing, and event planning for 13 years. Most recently, she was the Events and Marketing Director for the Boys & Girls Clubs of Southwest Missouri.
She is highly active in her community and is excited to share her passion for BCFO. When she is not working, you can find her on the golf course.
Outreach Director Breast Cancer Foundation of the Ozarks, 2011-present
Kristi and husband Michael are Joplin natives and have been extremely involved in the community.  She graduated from Missouri Southern State College (now University) with a general business degree in 1980 while working full time at Freeman Hospital.  Kristi began working for Freeman in 1978 while in college in various positions in business departments.  She took a new position after her son, Jonmichael was born in 1990, with an anesthesia group.  While working at Freeman Hospital, Kristi's passion to help others through fundraising was sparked.  She was recruited to co-chair FreemanFest 1990.  The success of this event gave Kristi the encouragement to become involved in many other fundraising efforts.  She chaired many school fundraising efforts, volunteered as treasurer for the areas swim team, and volunteered for Boy Scout Troop 39.     

Kristi changed careers in 2000 when the anesthesia group was dissolved.  She worked at a local greenhouse/nursery and then as a tax preparer and office manager at Blood Tax Service.  During this time in 2007 Kristi was diagnosed with breast cancer.  She focused on recovering from breast cancer and giving back and helping others dealing with the disease.  She got involved with local breast cancer efforts.  Kristi volunteered for BCFO during this time and was asked to join BCFO's staff in the Four State Area.  Kristi began with BCFO July 1, 2011 and manages all fundraising efforts in the Four State Area.   Kristi serves as outreach director in the community to facilitate matching needs with resources and works closely with area hospitals, physicians and local breast cancer patients.   Kristi has received these honors:   Most Influential Women, American Red Cross Everyday Hero, 417 Most Beautiful Woman.
RN, Program Director, 2020-present
Meagan was born and raised in the Ozarks. A native of Aurora, MO she moved to Springfield when she started college at Missouri State University in 2004. She graduated with a Bachelor of Science in Nursing degree in 2009. During her 11 years as a nurse she has worked in many areas including inpatient nursing, home health, and telehealth.

Meagan enjoys spending time with her husband Tyler and their daughter Ellie outside of work. They spend most of their time focusing on family and finding their next adventure.
Meagan believes the work BCFO does is a priceless asset to the community and is proud to serve in a role to contribute to that mission. Getting back to her roots of serving others and helping people is what drew Meagan to BCFO and she is honored to be a part of it.
Chief Operations Officer, 2021-present
Kathryn Wall was honored and humbled to join the BCFO team in April 2021. A lifelong Springfield-area resident, Kathryn's career has focused on giving back to her community. She is grateful that her role with BCFO allows her to be a small part of our client's healing journey every day.
Kathryn graduated from Missouri State University first in 2009 with a Bachelor's degree in print journalism, followed by a Master's in Public Administration in 2019. She began her career with the Springfield News-Leader in 2009 as an award-winning journalist with a particular focus on combating child abuse and neglect.
In 2014, she joined the Springfield-Greene County Health Department overseeing communication and public information. While her most visible contribution at the department was during the community's response to the COVID-19 pandemic, she is also proud of other department accomplishments during her tenure, including improving access to and combating stigma around mental health in the community, raising the minimum age for tobacco purchase to combat teen smoking, and responding to the local opioid crisis.
She has been honored as one of the Springfield Business Journal's Most Influential Women, is a graduate of the Sue Shear Leadership Academy and a proud member of Leadership Springfield Class 34.
BCFO hosts several fundraising events every year. Check out our upcoming events here!
With your help and support, BCFO can continue our mission of helping families impacted by breast cancer. To make a charitable donation, click HERE.
BREAST CANCER FOUNDATION OF THE OZARKS
620 W. Republic Rd. Ste 107
Springfield, MO 65807
PHONE: 417.862.3838
FAX: 417.862.3830


Stay informed about our latest news & events, or join our volunteer list. Don't forget to connect with us on social media as well.
Breast Cancer Foundation of the Ozarks is a local 501(c) 3 not-for-profit organization. BCFO reaches out to friends and neighbors who have been affected by breast cancer. BCFO offers personal support and comfort in real and practical ways, providing support networks, mentoring programs, a full range of resources regarding breast cancer awareness, diagnosis and treatment, where to find related community services, and more.